There are several different types of DJ – radio, mobile and club DJ being the most common. Each of these jobs differs slightly, and this is based on the audience, the type of music that will be played and certain aspects where equipment is concerned.
If you are a beginner DJ, you may have spent some time thinking about the type of DJing that you would like to do. For many people, doing club DJing is hugely appealing, and this can seem like a very glamorous lifestyle. But it pays to remember that it also takes a lot of hard work, skill and dedication.
In this post, we are going to be giving you some invaluable DJ advice for anyone looking to start DJing in a nightclub.
Know The Equipment
In the main, most clubs will have their own DJ setup that all the resident DJs will use. However, there is the option to take your own equipment if you prefer, and many pro DJs may like to do this. But you should keep in mind that you will have to plug everything in and get set up, so it is worth turning up to the venue in advance to do this.
Read Next: Do DJs Use All Four Decks?
If you are happy to use the in-house setup, then you should be sure that you are familiar with the Pioneer CDJ-2000NXS2 and the DJM-900NSX2, both of which are the most common setups in nightclubs across the globe. However, some clubs may use other equipment so it is worth getting a basic knowledge across the board if you can.
There are some pieces of equipment that you must bring yourself; these are often things like headphones and a jack adapter.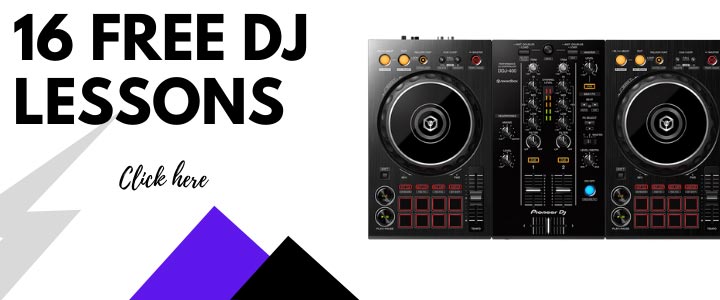 Music
The club may have a small catalogue of music, but if you really want to show off your style during your set, you must take your own collection.
The best way to do this is to take various mediums, most importantly your CD collection as well as a USB with a variety of music in the event that the CDs fail you.
Read: Where do DJs get their music?
It is also important to take a good range of music with tracks both old and new because you never know what tonight's crowd might want to hear.
Pay Attention To The Environment
Playing at home is a totally different experience to playing in a club, and if you have never worked in this type of environment before, it can come as something of a shock.
The lighting in clubs is always low – they want to set an atmosphere, and they aren't going to illuminate the DJ booth for your convenience.
It is, therefore, your responsibility to make sure that you have everything you need to be able to see what you are doing. There are some DJs who use a torch, and you'd be surprised how useful this can be.
If you are playing after another DJ, you will want to be prepared to alter the equipment to your liking – not everyone is the same and simple things like the volume level could throw you off if you aren't expecting it.
Think About The Time
Playing in a club happens late at night, and if you aren't used to working this late, it can leave you feeling exhausted. It is crucial to find a way to adjust to these late sets and ensure that you aren't too tired to give an outstanding performance.
If you can sleep during the day, taking a nap before your set will give you that all-important energy boost. But living a healthy lifestyle will also contribute to your energy levels.
If you are playing in another country or time zone, you may also need to factor in jet lag, so be prepared to work around this and get some rest when you arrive in the location.
Work With The Crowd
One of the most rewarding things about playing to a club full of people is seeing how excited they get and how well-received your set is. But engaging with the crowd will make this even more special.
One of the greatest DJ tips for club DJs is to know how to get the crowd pumped up. You should learn how to read the crowd and pick up on subtle signals that will tell you how the set is going down but also interacting is essential.
You are playing music to people who are there to have a good time – it is no use doing this with a sour look on your face. Showing the crowd how happy and excited you are to be, there will rub off on them. Dance with them and soak up the atmosphere so that you can all enjoy the music together!
Read Next: The Best Party Songs
Conclusion
Club DJing is all about having fun and enjoying the music. But it is also about being prepared, knowing your equipment, and engaging with the crowd. With these club DJ tips, you will be on your way to becoming a nightclub legend in no time!
Club djing can be a lot of fun, but it is also important to be prepared and know your equipment. With these club DJ tips, you will be on your way to becoming a nightclub legend in no time!
Read Next:
FAQs
How do I become a club DJ?
There is no one specific path to becoming a club DJ, but there are some things that will help you on your way. Firstly, it is important to have a good knowledge of music and be able to mix different tracks together. You should also be familiar with the various types of club DJ equipment and how to use it. Finally, it is useful to have some experience playing at smaller club nights or parties before moving on to bigger gigs.
What equipment do I need to be a club DJ?
The type of equipment you will need as a club DJ will depend on the club you are playing at and their setup. However, there are some pieces of equipment that are essential for most club DJs, including a DJ mixer, turntables, and CDJs.
How do I read a club crowd?
One of the most important club DJ tips is knowing how to read a crowd. This involves paying attention to the energy in the room and picking up on subtle cues from the dancers. It is also useful to interact with the crowd and get them involved in the music.
What are some club DJ tips for beginners?
If you are new to club DJing, there are a few things you should keep in mind. Firstly, it is important to be prepared and know your equipment. It is also useful to have a good understanding of music and be able to read a crowd. Finally, it is helpful to interact with the crowd and get them involved in the music.